Starting from Scratch – Chocolate Cornflake Cakes
---
If you asked my family and friends to list my strengths I guarantee that baking will not be in that list. My Mom used to bake every Sunday when I lived at home, I used to love the smell of the house on a Sunday. She would make an apple pie to have after the roast that day and then a yummy cake for Dad & I to take in our lunchboxes to school and work in the week. I really wanted to be able to bake like my Mum but I'm afraid it hasn't come naturally to me. Still, practice makes perfect and for the last couple of Sundays I have been trying to bake with Little Man. The first week was a disaster, cookie mix everywhere and no cookies at the end of it! This Sunday was a little more successful with yummy treats at the end of our baking adventure. I have to admit something though, I didn't actually bake – nothing went near an oven. We made chocolate cornflake cakes and Little Man loved it as did G & I as they reminded us of school dinners – yum.
I won't share a specific recipie with you as there are many many online and I don't think you even need a recipe for these. Well only people like me do anyway. But we basically melted a load of chocolate, butter and honey, mixed it into some cornflakes and put them in the fridge. Job done.
I have to say although this is an incredibly simple recipe, it is great for toddlers. Little Man loved mixing it all together and a particular highlight was licking the spoon of course. Maybe we'll progress to fairy cakes next week, watch out kitchen surfaces!!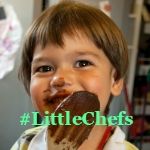 I must apologise for the not so great photos, this was all done in a bit of rush in the end. I have not learnt about preparation yet it seems.